The Tulsa Reining Classic welcomes Cardinal Reining Horses back for the second year as the open Derby title sponsor. The Cardinal Reining Horses Open Derby is a signature climactic event on the final day of the Tulsa Reining Classic, which runs August 31-September 6.
With $33,000 added, the Cardinal Reining Horses Open Derby will feature the industry's top 4, 5 and 6-year-old reining horses. Competition is fierce in this dramatic finale on the show's last day and this championship title has quickly become a prestigious credential in the reining industry.
Cardinal Training Center is owned by Joao Marcos Arruda Pires.  In 2013 he purchased a premier reining horse facility in Aubrey, Texas. John Marcos, as he is known in the United States, renamed the facility Cardinal Reining Horses and in just two years Marcos and Cardinal Reining Horses have come to represent world class reining around the globe.
That's not surprising to those who knew him. Though he might be new to reining, John Marcos is a veteran horseman. He also owns Cardinal Training Center-a 300 acre elite racing horse facility in Ocala, Florida.  
 Colleen McQuay, a partner of Global Reining Sport Group, which produces  the Tulsa Reining Classic, noted, "It has been a pleasure to have Cardinal Reining  join us at Tulsa and we appreciate the generous support he has given our event.  Joao understands the importance of the Derbies and Futurities, and his involvement in our sport is definitely making a difference."
Each entry in the Cardinal Reining Horses Open Derby receives a signature specially monogrammed crimson jacket featuring both the Tulsa Reining Classic and Cardinal logos.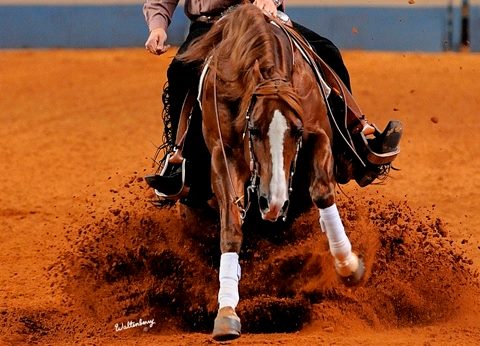 Cardinal Ranch stands two special stallions – AQHA and NRHA World Champion Star Spangled Whiz LTE: $175,000+ (Topsail Whiz x Sheza Shady Slider) owned by Bevilacqua Quarter Horses, Italy, and CFR Centenario Wimpy  LTE: $175,000+ (Wimpys Little Step x 
Miss Hollywood Whiz) owned by Slide or Die LLC, Italy. Marcos worked with Million Dollar rider Tom McCutcheon to purchase an extraordinary set of 
broodmares and their foals are now becoming the future of Cardinal Reining Horses.
Reflecting the international ties developing throughout the reining industry, Cardinal Ranch serves as home base for several leading trainers. Brazilian native and NRHA Professional Franco Bertolani is head trainer for Cardinal Reining Horses, along with his wife, Italian Giorgia Codeluppi.   
Five trainers work independently out of Cardinal Ranch, including NRHA Million Dollar Rider Brian Bell, NRHA Open World Champion Ann Salmon-Anderman, NRBC Open L3 Champion Ruben Vandorp, Monte Anderman and NRBC Open Finalist Billy Williams.